Shepherd Spring Animal Hospital is now proudly offering Free First Exams for all new clients. Come meet our Drs. Griggs, Elmore, Petrario, Franklin and the rest of our talented team and discover why we are one of Crawfordville's leading pet healthcare providers!
Don't miss out on this exclusive offer!
Call today or fill out the form below to schedule your free exam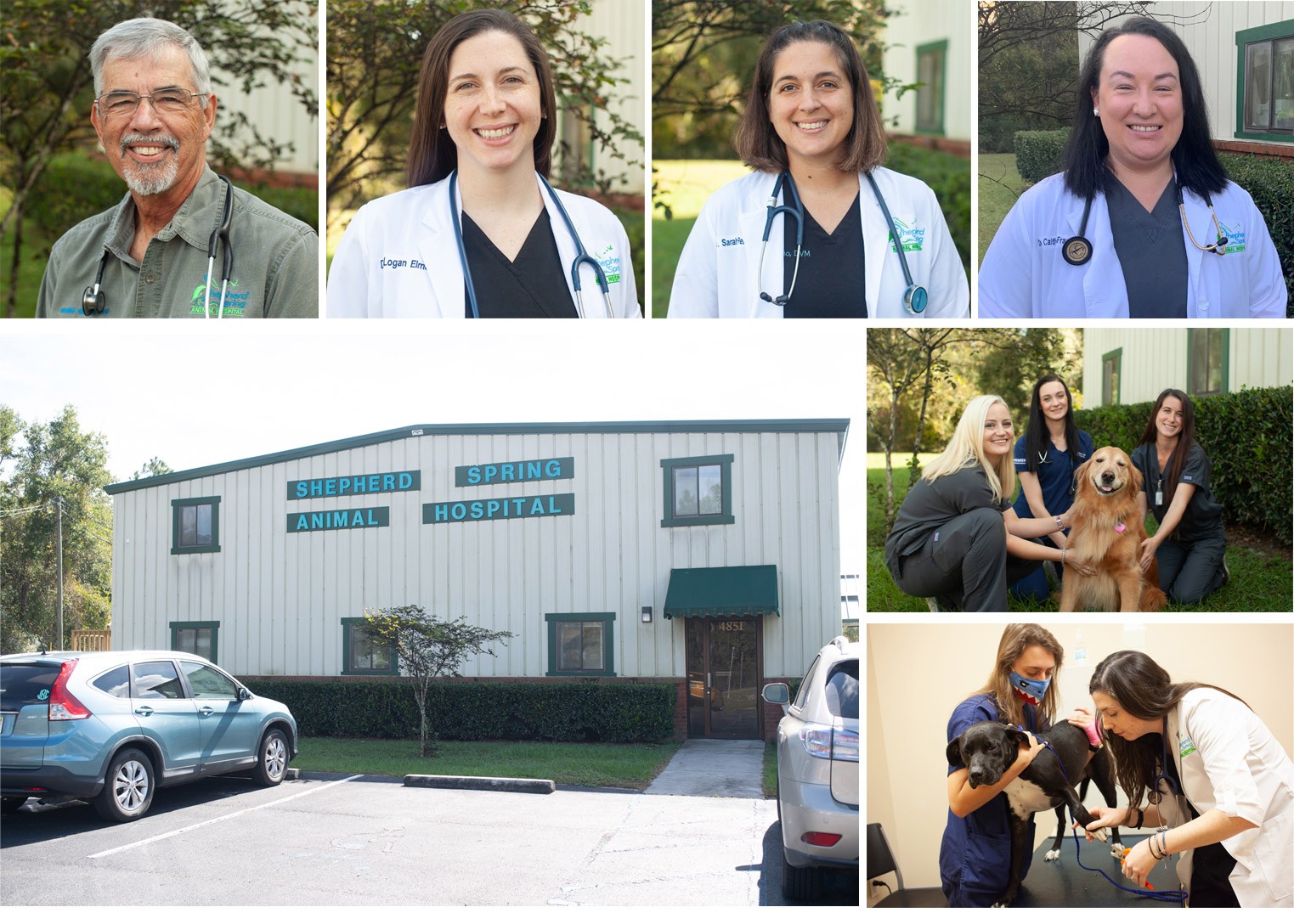 Don't forget to call us to schedule your first exam FREE!
About Shepherd Spring Animal Hospital
Shepherd Spring Animal Hospital opened our hospital in 2008 to serve the needs of pet owners and animals in our community while providing expert veterinary care. In addition to our medical services, we also offer boarding for dogs and cats in our fully supervised boarding facilities.
We pride ourselves on caring for your pets as if they were our own. Whether your pets need routine checkups or more serious medical care, you can be sure they're in great hands at Shepherd Spring Animal Hospital.
Services We Offer:
Boarding
Dental Care
Emergency Care
Grooming
Microchipping
Radiology
Spay & Neuter
Surgery
Vaccinations
Wellness Exams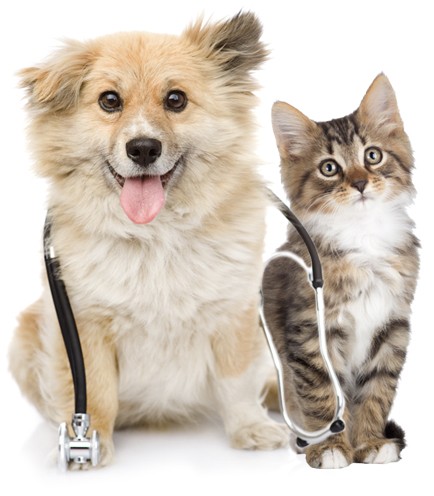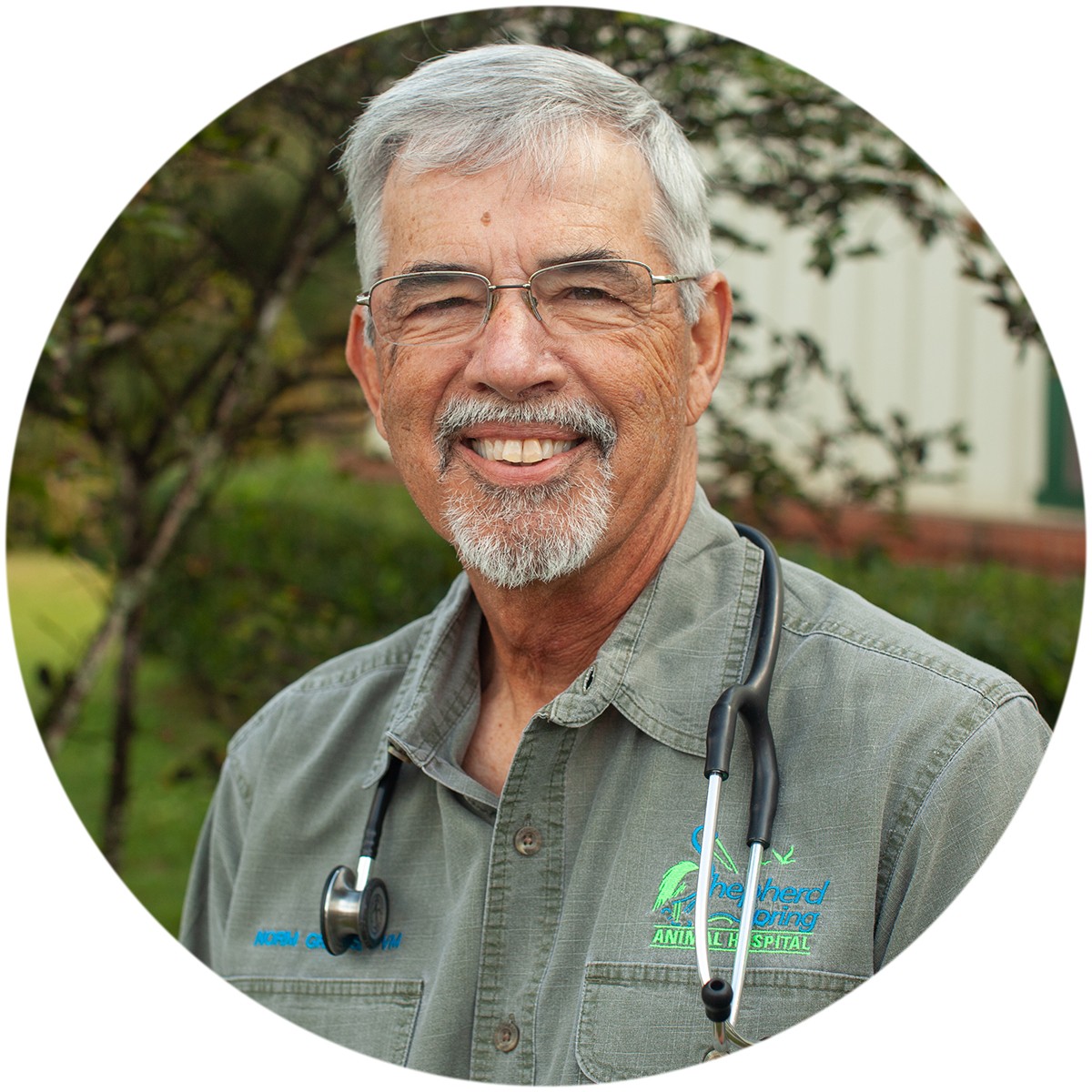 I grew up in Memphis, TN with my 3 brothers, sons of a machinist and a "stay at home" Mom. As a child and teen of the 60's, I struggled through school. After high school, I enlisted in the US Marine Corps. As it turned out, those 4 years changed my life far more than any formal education after that. Self-determination, responsibility to myself and others, and a structured life, where effort and excellence was recognized, profoundly changed my personal view of myself. I learned about life, death and the personal rewards for a job well done. My peers hailed from all over the United States; farm kids, getto kids, rich kids, smart kids and semi-insane kids. I say "kids" because, looking back, we really were kids. I "grew up" with this incredibly diverse mix of peers. I learned my "place" in life from these buddies from everwhere. But, most of all, I learned that I could do something meaningful with my life if I was willing to work to make my dreams come true. As cheesy as it sounds, that is where I was forged. By nature, I am hard headed about what is right and wrong. Honor, to me, is the most important virtue a person can possess. I don't propose that makes me special or different. It is simply what is in my heart.
I love caring for animals. I feel their discomfort, both physical and emotional. I admire the brutal honesty of children, cats, dogs and other animals. Each can tell you that they don't feel well, but the challenge that I enjoy so much is learning and understanding what is wrong with them, and doing something to help them.
I try to surround myself with caring, like minded people. They all work hard, often under very difficult circumstances, to help our patients enjoy a better life. Their expectations inspire me to be my best, each day, to lead our team in making a meaningful difference in the lives of those trusted in our care.
Not a single patient of mine has ever "thanked" me with words. But they do thank me. No words are needed. But just as important to me, it is the expressed appreciation from their owners, those who care so much about them, that is moving beyond words. So, it is for you great people, and your profound love for your furry, feathered, or "other" friends that I dedicate Shepherd Spring Animal Hospital. It is and will continue to be, our mission, to partner with you to ensure your pets enjoy a long and healthy life. And, I promise to always see that mission fulfilled with grace, honor, dignity, and compassion.
Thank you all, from the bottom of my heart.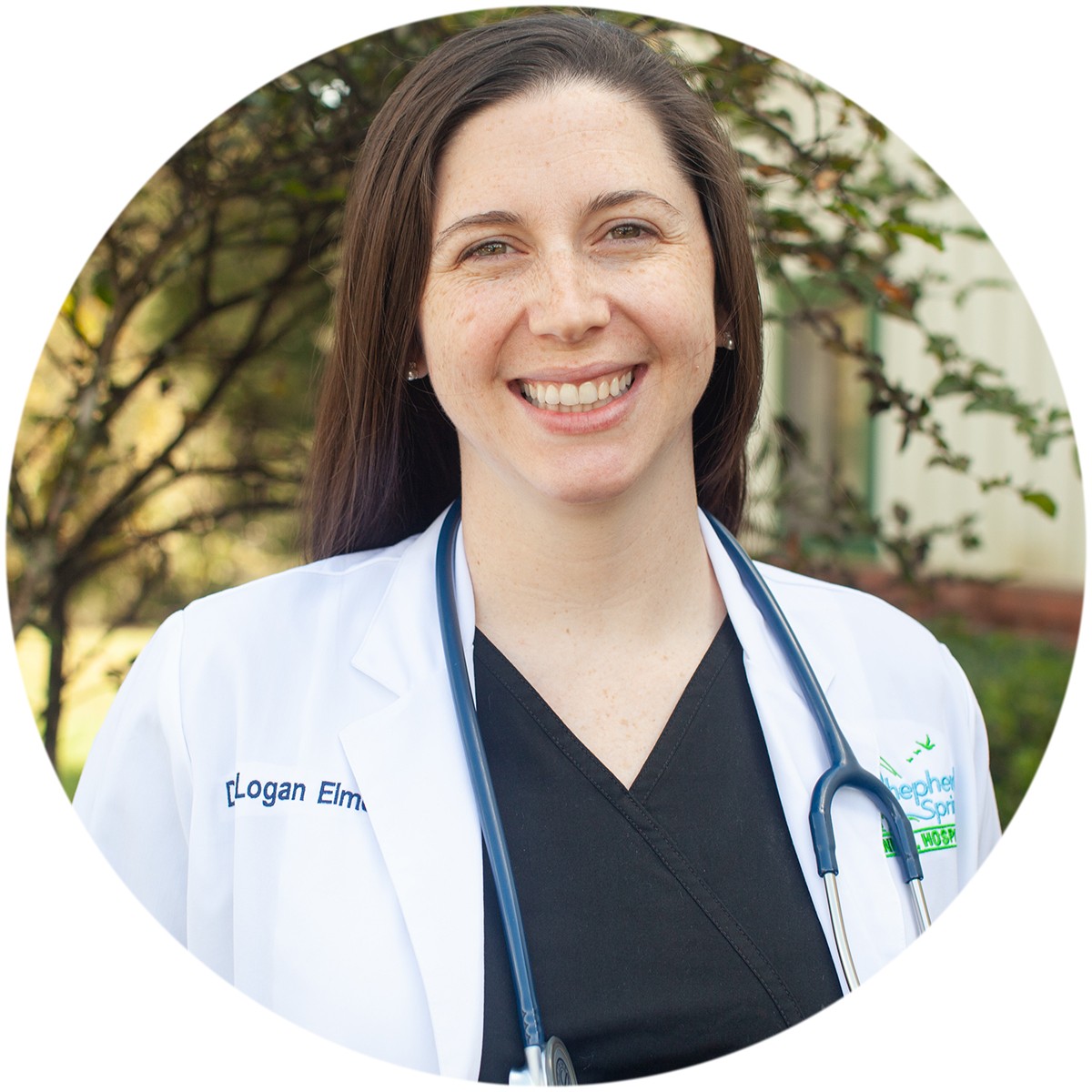 Dr. Logan Harvey Elmore is a born and raised Crawfordville native, graduating from Wakulla High School in 2011. She attended University of Mobile in Mobile, AL where she received a Bachelors of Science in Biology with a minor in Chemistry, graduating in 2015. She was accepted to University of Florida College of Veterinary Medicine and graduated with the class of 2019. While in vet school, she also completed professional certificates in Food Animal Medicine and Veterinary Business Management. She is married to her husband, Eric, and they currently have one cat, a sassy, black rescue named Amelia. Her current small animal veterinary interests include surgery and dentistry. She is also passionate about mixed/large animal medicine and hopes to provide such services to Wakulla County in the near future. Dr. Elmore is thankful and blessed to be able to return to Wakulla County to live, work, and serve her community in "God's country". Outside of veterinary medicine, she enjoys spending time with her family, traveling, and serving at her local church.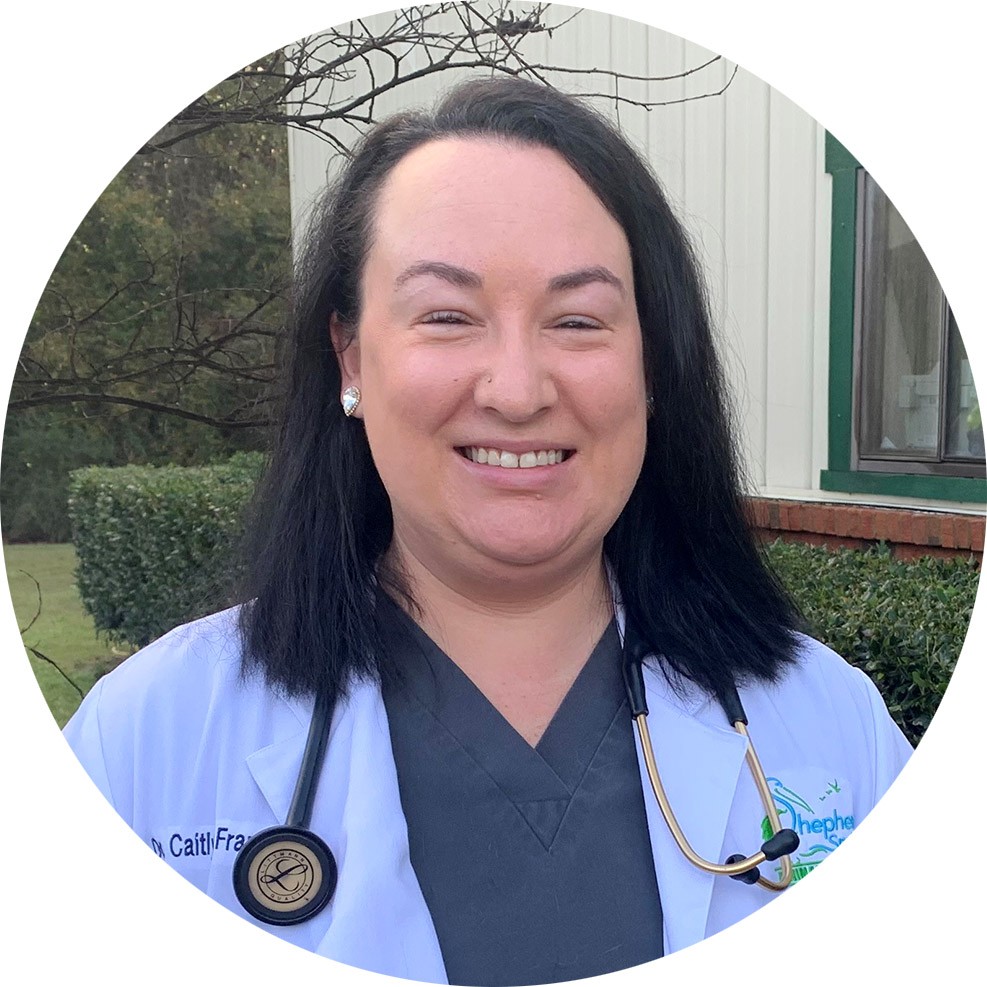 Dr. Caitlyn Franklin was born and raised in Panama City, Florida. She first attended FSU where she received her Bachelors of Science degree in Biology. She then went to Auburn University College of Veterinary Medicine where she graduated with the class of 2017.
Dr. Franklin's special interests include internal medicine, cardiology, and feline medicine.
Her and her husband Erik enjoy fishing, traveling, and spending time with their families. Part of their family includes a red heeler named Costa and two cats named Rufus and Sealee.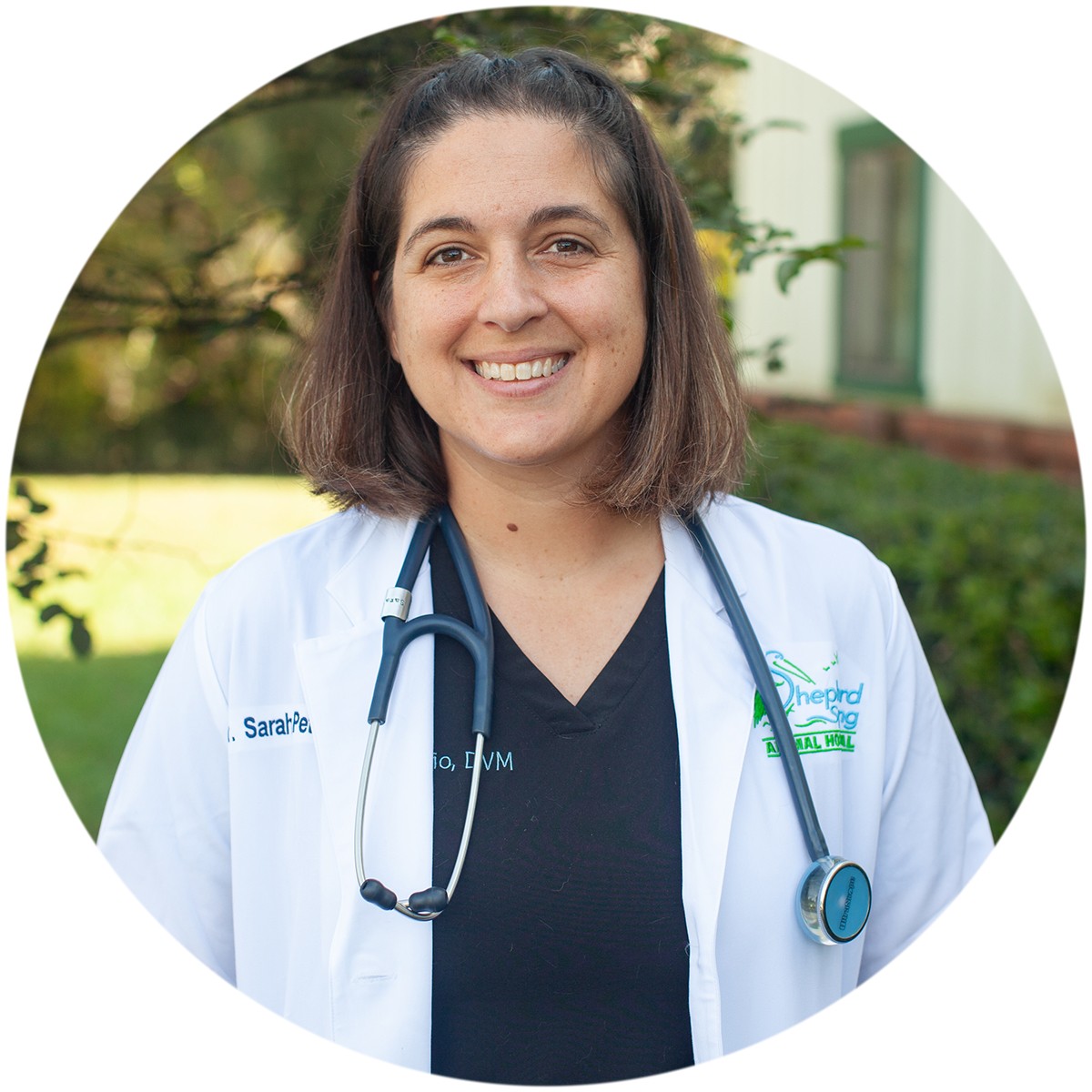 Dr. Petrario is a wonderful addition to our family! She received her BS degree from Hofstra University and her DVM from St. George University. She enjoys spending time with her husband and many fur-kids at home including two horses, two English bulldogs, two parakeets, cats and fish. When not at Shepherd Spring, she enjoys horseback riding, attending Morgan Hunter shows, boating, and "pretending" to fish with her husband.
"One day I would like to write a children's book about my dog Priscilla, my English bulldog. One day, she rampaged the pantry and stole potatoes. She had them scattered and hidden throughout the house and back yard that we continued to find potatoes for weeks at a time! I think it would make a great children's story."